Sciaky, Inc. to be represented by EFESTO, LLC at AMSI in Bangalore
EFESTO will highlight Sciaky's new lineup of Electron Beam Additive Manufacturing Systems
September 3, 2015
Chicago, Illinois – Sciaky, Inc., a subsidiary of Phillips Service Industries, Inc. (PSI) and leading provider of metal additive manufacturing (AM) solutions, announced today that it will be represented by international reseller EFESTO, LLC at the Additive Manufacturing Society of India (AMSI) Conference. EFESTO CEO Ashok Varma will highlight Sciaky's new Electron Beam Additive Manufacturing (EBAM) systems and expansive AM services at the event. EFESTO is also the Exclusive Diamond Sponsor of AMSI.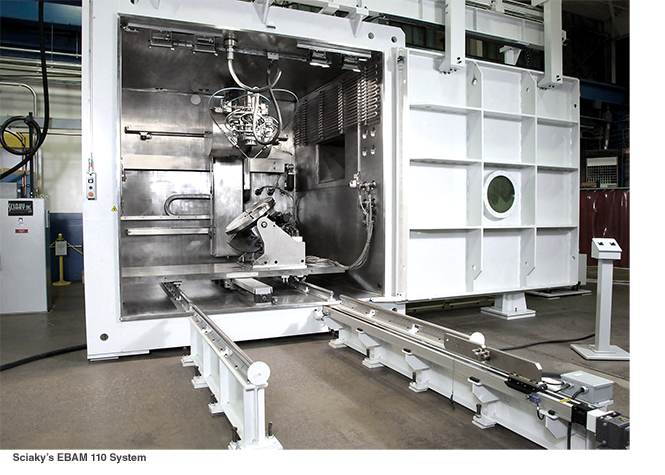 The expanded lineup of Sciaky EBAM 3D printing systems includes new options for medium, large, and extra-large part applications, making EBAM the most widely scalable metal 3D printing solution in the market (in terms of work envelope) for parts ranging from 203³ mm (8 in. ³) to 5.79 m (19 ft.) in length. EBAM is also the fastest deposition process in the metal 3D printing market, with gross deposition rates ranging from 3.18 to 9.07 kg (7 to 20 lbs.) of metal per hour. Plus, with a dual wirefeed option, you can combine two different metal alloys into a single melt pool to create "custom alloy" parts or ingots, or change the material mixture ratio to create "graded" parts or structures.
Sciaky's EBAM technology utilizes wire feedstock, which is available in materials such as titanium, tantalum, niobium, tungsten, molybdenum, Inconel, aluminum, stainless steels, nickel alloys, and more.
"Sciaky is pleased to have a knowledgeable additive manufacturing professional like Ashok Varma of EFESTO represent us at AMSI," said Mike Riesen, general manager of Sciaky, Inc. "Our new EBAM metal 3D printing systems and world-class AM services provide manufacturers a variety of options to save significant time and money on the production of metal parts and prototypes."
The AMSI Conference takes place September 7-8, 2015 in Bangalore, India. Sciaky will be represented in the EFESTO exhibit. For more information about the event, visit www.amsi.org.in/Conference.
For more information on Sciaky, visit http://www.sciaky.com. You can also follow Sciaky on Twitter, Facebook, Google+, YouTube and LinkedIn.
For more information on EFESTO, visit www.efesto.us.