Comprehensive post-sales services and support for Sciaky's AcuWeld 1000 Advanced Arc Welding Systems
Protect Your Investment with ARCPlus Services
Your Sciaky AcuWeld 1000 Advanced Arc Welding System is an integral part of your manufacturing business. Its availability to your production staff is crucial. For that reason, Sciaky recommends regular service evaluations to keep it running at optimal performance.
Sciaky's Technical Services Team is ready to assist you with tailored options for:
Preventive maintenance
Repairs
Modifications, upgrades and retrofits
Software upgrades and maintenance
Emergency repair and surplus part services
Benchmark Testing & Preventive Maintenance
Working directly with your technical point-of-contact, a Sciaky Field Service Technician will visit your site and perform benchmark testing procedures, along with a preventative maintenance assessment. This service is recommended every six months and requires approximately one 10-hour day. Sciaky will schedule the assessment at your convenience to minimize production downtime. The service covers the following subsystem equipment:
Computer Controls
Drive & Motion Systems
Gas Control System
Torch Assembly & Cooling
Cable Interfaces
Current Source System
Wire Feed System
Any defective parts revealed during the preventive maintenance assessment will be identified (by Sciaky part number) and recommended for replacement. If required, Sciaky will advise a course of action for on-site repair to restore your welder back to original system requirements.
Calibration Evaluation
The accuracy of welding components naturally drifts overtime. Therefore, it is necessary to calibrate welder parameters at regular intervals. Calibration quantifies and improves welder performance, reduces inconsistency, and maintains peak production. To help you meet your calibration needs, a calibration should be performed on your Sciaky AcuWeld 1000 Advanced Arc Welding System once a year.
The Calibration Evaluation Service includes addressing the following parameters:
Arc Voltage
Current Source
Wire Feed
Gas Flow
All Axes Velocities & Repeatabilities
Calibration evaluation requires approximately one 10-hour day. Sciaky will schedule the evaluation at your convenience to minimize production downtime. Subsystem recalibration may require requalification of existing weld schedules as specified by the end user.
Keep Your Arc Welding System Modern & Efficient with System Upgrades & Accessories
Sciaky provides accessories, retrofit packages, as well as technology and component upgrades, to seamlessly modernize your AcuWeld 1000 Advanced Arc Welding System and improve performance. Examples of system upgrades include:
Power supply
PC system software & computer control
Weld optics
Motion systems hardware
Gas system
Call our Technical Services Department today for pricing and details at 1+877-450-2518. Emergency visits are available.
Arc Welding Services
Flexible and affordable arc welding services
Sciaky has two 5-axis AcuWeld 1000 Systems that support Gas Tungsten Arc Welding (GTAW) and Plasma Arc Welding (PAW) processes in its Chicago facility.
These flexible and time-tested advanced arc welding systems provide superb quality for all of your contract service needs. In fact, they have been a vital resource for a high-production assignment for a leading manufacturer since 2007.
Upgrade or Retrofit Your AcuWeld 1000 Advanced Arc Welding Systems
Maximize Productivity & Reduce Downtime
Is outdated or broken welding equipment hurting your company's productivity? If so, let Sciaky improve the performance, accuracy and life expectancy of your Sciaky AcuWeld 1000 Advanced Arc Welding System.
As the OEM, Sciaky provides spare parts/accessories, retrofit packages and upgrades to modernize and extend the life of your Sciaky EB welding system. Retrofits and upgrades are cost effective, increase productivity, improve equipment reliability, and minimize future maintenance costs. Let the experts at Sciaky extend the working life of your welding system.
Five Reasons to Choose Sciaky for Your AcuWeld 1000 Advanced Arc Welding System Upgrade or Retrofit:
Sciaky is the OEM and can restore your system to maximum efficiency.
Sciaky has developed modern controls and data acquisition units that integrate seamlessly with your existing Sciaky equipment.
Sciaky understands the performance demands required of your equipment.
Allowing Sciaky to upgrade your equipment reduces a reliance on obsolete and outdated spare parts.
A new machine purchase can be costly. Sciaky repairs, retrofits and upgrades minimize capital expenditures.
Spare Parts & Repair Services for AcuWeld 1000 Advanced Arc Welding Systems
As the manufacturer of AcuWeld 1000 Advanced Arc Welding Systems, Sciaky maintains a substantial inventory of spare parts on-site.
We offer emergency shipment assistance, as well as technical resources that can assist you with diagnosing part-related problems.
Call us today at 1+877-450-2518.
Sciaky's AcuWeld 1000 is the Most Flexible Advanced Arc Welding System on the Market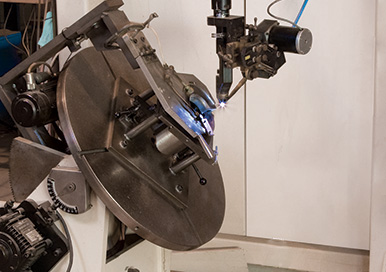 Sciaky's AcuWeld 1000 Advanced Arc Welding System is known throughout the industry for its flexibility, ease-of-use and superb quality--it supports Gas Tungsten Arc Welding (GTAW/TIG) and Plasma Arc Welding (PAW) applications.
The AcuWeld 1000 integrates the welding process with all machine movements, providing complete control through a single W2020 computer system. Menu-driven programming and a portable operator's pendant make the system very user friendly.
Check out the features and benefits of the AcuWeld 1000 Advanced Arc Welder in the chart below:
Features
Benefits
Welding Process
The AcuWeld 1000 supports both the Gas Tungsten Arc Welding Processes and Plasma Arc Welding Processes.
Multi-Axis Programmable
Five (5) standard programmable axes include: X, Y, Z, Part Rotation and Part Tilt. Torch Rotation, Torch Tilt, and Wire Guide Rotation are also available as options.
Weld Positioner Table
Standard 1000-pound (455 kg) load with a 30" (762 mm) faceplate, 6" (152 mm) off and eccentric. 2500-pound (1136 kg) load is also available as an option.
GTAW/PAW Power Supply
175 amperes 100% duty cycle modular Inverter technology with less than 1% ripple and 1 ms pulsation rise time. Optional higher power units available.
Wirefeed System
Computer controlled through servo drive system for precise velocity regulation. Wire feed speed rates programmable from 2 to 100 IPM (50 to 2540 mm/min). System incorporates synchronized pulsation of wire feed rate with weld current pulsation to precisely control heat input.
W2020 Control
A single VME computer system that integrates machine and process control. Quality assurance and diagnostic aids are also included. All essential welding parameters are programmable and monitored.
Portable Pendant
The operator interface includes the Portable Pendant, which provides ease of weld development and machine operation. With the Portable Pendant, the operator can observe welding and machine motion parameters and perform real-time overrides, if required. The Portable Pendant can control up to 9 axes of motion, two wire feeders, axis speed, incremental jogging, as well as other functions.
In order to better serve you, Sciaky proudly offers financing and leasing options to assist you with your machine purchase. Ask your Sciaky sales representative for details.
To discuss your arc welding requirements with a Sciaky welding expert, call us at 1+877-450-2518.