Spare Parts & Repair Services for EB Welders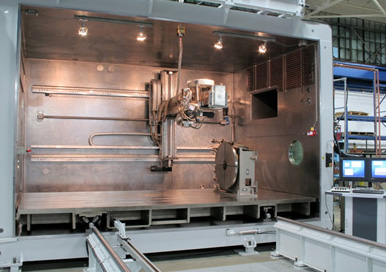 As a leading provider of electron beam (EB) welding systems, Sciaky maintains a substantial inventory of spare parts on-site.
We offer emergency shipment assistance, as well as technical resources that can assist you with diagnosing part-related problems.
Call us today at 1+877-450-2518.
Available EB Welding Systems
Refurbished EBW-112x102x66
Price: Contact for Details
---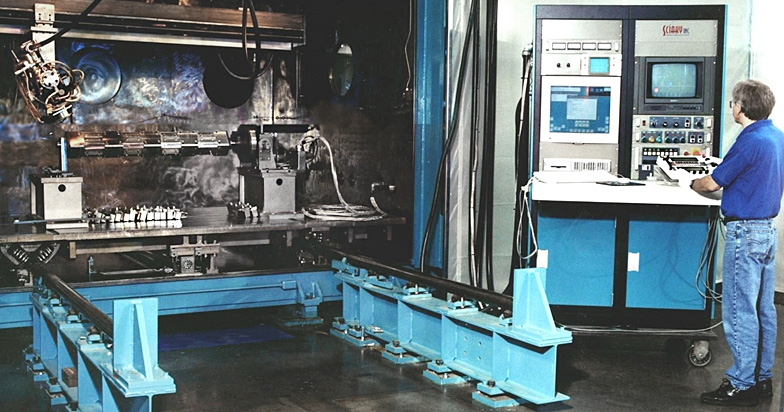 ---
Sciaky has a EBW-112x102x66 available – upgrades and refurbishment required.
The machine is a 30KW W2000 computer-controlled hard vacuum beam welder, with an internally mounted low voltage (60KV) gun and a motorized work carriage. It provides significant advantages in energy efficiency, weld rate, part handling, motion, cycle time, and accuracy. It is also an excellent choice for applications containing refractory alloys and dissimilar materials. The motorized gun and work carriage mechanisms that are included with the base machine consist of high precision servo-controlled mechanical arrangements that manipulate the X, Y, Z axes. The work carriage plate incorporates machined T-slots to mount and clamp work pieces, welding fixtures, or the rotary headstock assembly included with the system.
The W2000 computer control system comes with a portable pendant and has the capability to be programmed to provide simultaneous weld parameters and servo contouring using multiple mechanical axes.
This system can be upgraded to Electron Beam Additive Manufacturing (EBAM) system. Sciaky's EBAM™ systems are the most advanced metal 3D printing systems on the market.
EBW-112x102x66 Specifications:
Chamber Interior Size: 112" (2845 mm) x 102" (2591mm) x 66" (1676mm)
Gun Travels:X-Axis 86" (2184 mm)
Z-Axis 30" (762 mm)
Work Table Travel: Y-Axis 46" (1168 mm)
Work Table Size: 108" (2743 mm) x 32" (813 mm) – T –Slotted
Upgrades Included: Windows WIN 7 Based Man-Machine-Interface (WMMI),
New Real-Time Processor Circuitry
Installation Service: The EB welding system components shall be crated, rigged, and shipped to the customer's facility by Sciaky at the cost of the customer. The customer shall be responsible for providing rigging and unloading at the customer's facility. In addition, Sciaky shall provide the customer with proper lifting and handling instructions. Sciaky can optionally provide installation at the customer's site followed with machine startup and testing services.
Options Available:
Turnkey Install & Test Acceptance at Customer's Site
Extension Chamber
New Rotary Headstock Assembly
New Rotary / Tilt Positioner
System Warranty
Electron Beam Additive Manufacturing (EBAM) Capability
The Widest Range of Electron Beam Welding Services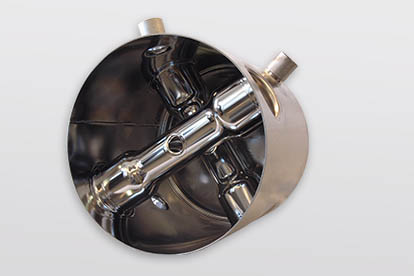 Sciaky's welding job shop offers a wide range of affordable Electron Beam (EB) welding services for customers in a wide variety of industries all over the world.
EBW Job Shop Services
We have the capability to weld large assemblies up to 24 feet in length and 92 inches in diameter, as well as tiny parts that fit in the palm of your hand. Whether your requirements call for the development of a prototype part or fabrication services for large volume production, Sciaky has the right solution to meet your needs. Best of all, Sciaky's custom EB welding services are competitively priced and offer tremendous advantages over smaller job shops in terms of equipment and expertise. You won't find a more complete EB welding job shop anywhere in the world.
Sciaky's process development laboratory is staffed with highly qualified personnel and the latest equipment to evaluate your specialized welding applications and feasibility programs. Our skilled technicians offer the latest welding processes, system design, weld joint design, metallurgical expertise, and programming skills. The process laboratory occupies about 4,000 square feet within the service facility. Additional testing, such as radiographic inspection and ultrasonic inspection is available as well.
---
EB Welding Job Shop Services
Electron Beam Welding Consultation: Have a Sciaky EB welding expert show you how to get the most out of your Sciaky EB welding system
Welding Specification Certifications
Standards such as AMS2680, AMS2681B, AWSD17.1, AWSC7-3, Mil-W-46132, ASME Boiler & Pressure Vessel Code
Quality Procedures and Manuals, detailed operation sheets, Approved EB weld schedules with configuration controls
Nadcap accreditation for EB welding and Quality Systems AS7003 and AC7004
Customer-Specific Certifications
Custom Part Fixturing and High Throughput Fixturing
Work Handling Capacity up to 20 tons
Cleaning and Painting Facilities
Heat Treatment | Stress Relief
Metallurgical Analysis
NDI—Leak checking, Die Penetrant inspection, Laboratory Testing and Demonstration Capabilities
Pre- or Post-Weld Machining
Assembly and Finish Machining
---
Click Here to Download Sciaky's Contract EB Welding Services Info Sheet
Upgrade or Retrofit Your EB Welding System
Maximize Productivity & Reduce Downtime
Is outdated or broken welding equipment hurting your company's productivity? If so, let Sciaky improve the performance, accuracy and life expectancy of your Sciaky EB Welding System.
As the OEM, Sciaky provides spare parts/accessories, retrofit packages and upgrades to modernize and extend the life of your Sciaky EB welding system. Retrofits and upgrades are cost effective, increase productivity, improve equipment reliability, and minimize future maintenance costs. Let the experts at Sciaky extend the working life of your welding system.
Five Reasons to Choose Sciaky for Your EB System Upgrade or Retrofit:
Sciaky is the OEM and can restore your system to maximum efficiency.
Sciaky has developed modern controls and data acquisition units that integrate seamlessly with your existing Sciaky equipment.
Sciaky understands the performance demands required of your equipment and has engineered vacuum system enhancements to reduce energy consumption and pump-down time up to 50%.
Allowing Sciaky to upgrade your equipment reduces a reliance on obsolete and outdated spare parts.
A new machine purchase can be costly. Sciaky repairs, retrofits and upgrades minimize capital expenditures.



Sciaky makes retrofitting to your old system easy. Our Customer Service technicians can work with you to customize a package to meet your needs. Choose from:
WMMI upgrade to WIN 7 Operating System
Main Process Board Upgrade
Cryogenic Vacuum Enhancement
High-resolution Welding Optics
System Controls Upgrade—vacuum system controls and motion controls
High-voltage Power Supply Replacement
Electron Beam Additive Manufacturing (EBAM) Upgrade
Add Sciaky's EBAM Technology to Your Sciaky EB Welding System
We now offer Electron Beam Additive Manufacturing (EBAM) upgrades for Sciaky EB welding systems. EBAM upgrades are customized to meet your specific requirements. Sciaky also provides in-depth training and support so that your staff can become EBAM experts, too.
How does Sciaky's EBAM process work?
Starting with a 3D model from a CAD program, Sciaky's fully-articulated, moving electron beam gun deposits metal, via wire feedstock, layer by layer, until the part is built and ready for finish machining.
Deposition rates typically range from 7 to 20 lbs./hr., depending upon part geometry and the material selected.
What are some of the benefits of Sciaky's EBAM technology?
It drastically reduces your material costs
It dramatically shortens your lead times
It slashes machining time by as much as 80%
It saves money over costly forgings
It eliminates wait time for dies, molds and expensive billets
Call Sciaky today at 1+877-450-2518 to tailor a retrofit or upgrade package for your system that will deliver the performance and reliability you need.
Providing Comprehensive Post-Sales Service & Support for Sciaky EB Welding Systems
Protect Your Investment with EBPlus Services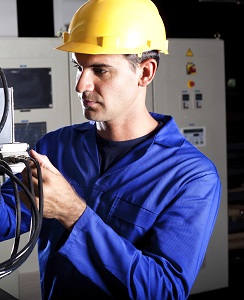 Your Sciaky EB welding system is an integral part of your manufacturing business. Its availability to your production staff is crucial. For that reason, Sciaky recommends regular service evaluations to keep it running at optimal performance.
Sciaky's Technical Services Team is ready to assist you with tailored options for:
Preventive maintenance
Repairs
Modifications, upgrades and retrofits
Software upgrades and maintenance
Emergency repair and surplus part services
---
Benchmark Testing & Preventive Maintenance
Working directly with your technical point-of-contact, a Sciaky Field Service Technician will visit your site and perform benchmark testing procedures, along with a preventive maintenance assessment. This service is recommended every six months and requires approximately three 10-hour days. Sciaky will schedule the assessment at your convenience to minimize production downtime. The service covers the following subsystem equipment:
Pumping System
Computer Controls
Drive Systems
Beam Control System
Beam Deflection System
Electron Beam Gun
Gun Optics
Cable Interfaces
High Voltage System
X-Ray Survey
Any defective parts revealed during the preventive maintenance assessment will be identified (by Sciaky part number) and recommended for replacement. If required, Sciaky will advise a course of action for on-site repair to restore your welder back to original system requirements.
Calibration Evaluation
The accuracy of welding components naturally drifts overtime. Therefore, it is necessary to calibrate welder parameters at regular intervals. Calibration quantifies and improves welder performance, reduces inconsistency, and maintains peak production. To help you meet your calibration needs, a calibration should be performed on your Sciaky EB Welding System once a year. The Calibration Evaluation Service includes:
Accelerating Voltages
Beam Currents
Beam Focus
Scanner Accuracy
All Axes Velocities
Beam Deflection
Filament Operation
Calibration evaluation requires approximately five 10-hour days. Sciaky will schedule the evaluation at your convenience to minimize production downtime. Subsystem recalibration may require requalification of existing weld schedules as specified by the end user.
Keep Your EB Welding System Modern & Efficient with System Upgrades & Accessories
Sciaky provides accessories, retrofit packages, as well as technology and component upgrades, to seamlessly modernize your EB system and improve performance. Examples of system upgrades include:
Power supply
PC system software
Optics
Motion systems hardware
Vacuum system
Electron beam welding gun
Electron beam additive manufacturing (EBAM) upgrades—wire-feed system, closed-loop control and PC system software
Call our Technical Services Department today for pricing and details at 1+877-450-2518. Emergency visits are available.