Inventory Machine Available Now
Refurbished Sciaky AcuWeld 1000/5 - Reference # 11694
Price: Call for Details
---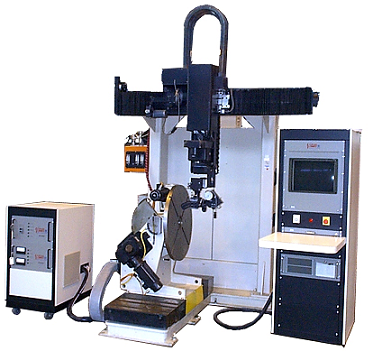 Sciaky has a refurbished AcuWeld 1000/5 Advanced Arc Welder available in stock. Here are the machine specifications:
5 CNC Servo Controlled Axes with Wire Feed
X : 42" Travel
Y : 18" Travel
Z : 21" Travel
Part Tilt : - 5° / + 95°
Part Rotation : Infinite
Other Features Included:
Servo controlled Rotary-Tilt Positioner capable of handling parts up to 1000 lbs.
350 Amp 100% Duty Cycle Modular Inverter Welding Power Supply configured with GTAW & PAW compatibility.
Equipped with latest W2000 Control upgrades and Windows based Man-Machine Interface (WMMI).
Supplied with a Portable Operators Pendant capable of controlling 9 Axes of motion and multiple wire feeders, axis speed, and incremental jogging with other display functions.
Contact Sciaky for pricing, additional options & product information.