Sciaky Works with the Leading Additive Manufacturing R&D Organizations to Push the Boundaries of Metal 3D Printing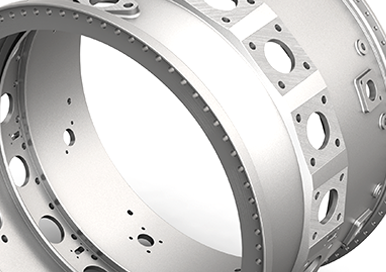 Sciaky's groundbreaking Electron Beam Additive Manufacturing (EBAM®) process has been a key driver of several high profile research and development (R&D) projects involving the Department of Defense (DoD), U.S. Air Force, Lockheed Martin, and Boeing. Lockheed Martin Aeronautics Vice President Stephen O'Bryan called Sciaky's EBAM® technology a "game-changer," estimating the savings of a single F-35 part could be as much as $100 million over the life of the aircraft.*
Sciaky also partners with America Makes, the Alliance for the Development of Additive Processing Technologies, and the Center for Innovative Metal Processing through Direct Digital Deposition (CIMP-3D) at Pennsylvania State University, which is funded by DARPA's Open Manufacturing project, to push the boundaries of 3D printing technology on academic and government initiatives.
EBAM allows manufacturers to save significant time and costs on the production of large-scale parts and prototypes, up to 19 feet in length, made of virtually any metal, including high-value refractory alloys like titanium and tantalum.
Sciaky's additive manufacturing research projects include:
---
Small Business Innovative Research (SBIR) for Air Force Research Lab – Contract # FA8650-11-C-5165
Sciaky received an SBIR award to demonstrate, from start to finish, the processes and procedures involved with providing lower-cost titanium structures to the aerospace industry using its exclusive electron beam additive manufacturing (EBAM) technology.
Under this research initiative, Lockheed Martin Aeronautics serves as the Engineering Design Authority to the U.S. Air Force. Boeing Research and Technology will provide expertise in titanium machining, AM preform machining and NDT procedures. Boeing will also develop equipment requirements to inspect AM preforms, provide geometric inspection techniques for large structures, as well as offer process inputs intended to better-enable the technology to become commercialized at the end of the project for new and legacy programs. The University of Tennessee Space Institute (UTSI) will provide expertise in process development and control, metallic solidification and titanium metallurgy. Beaver Aerospace & Defense will provide machining for small to medium-sized titanium structures using EADM preforms. Perryman Company will provide assistance with developing raw material specifications for the EB wire. Solar Atmospheres will provide heat treating services, as well as capital equipment engineering and production services.
---
Small Business Innovative Research (SBIR) for Air Force Research Lab – Contract # FA8650-11-C-5302
Sciaky received an SBIR award to refine and demonstrate closed-loop control for its EBAM technology. The goal is to optimize control during the deposition of a molten material pool to ensure the repeatability of the process for the production of structures and components for the aerospace industry.
---
Department of Defense (DoD) Mentor-Protégé Agreement with Lockheed Martin Aeronautics
Sciaky entered a U.S. Department of Defense (DoD) Mentor-Protégé Agreement with the Aeronautics business area of global security giant Lockheed Martin to advance Sciaky's Electron Beam Additive Manufacturing (EBAM) technology. The DoD and the manufacturing industry identified EBAM technology for repair and discrete part production as transformative, meaning it could redefine and advance the current state-of-the-art in aerospace manufacturing.
Under the Mentor-Protégé Agreement, Lockheed Martin Aeronautics helped Sciaky expand manufacturing capacity and management infrastructure to deliver affordable, high quality, innovative titanium raw material pre-forms in quantities that will support future DoD and prime contractor needs. The initial focus of this agreement was on manufacturing titanium structural components for Lockheed Martin's F-35 aircraft program.
"While the early focus is going to be F-35, we ultimately plan to implement Electron Beam Additive Manufacturing technology across the breadth of our aircraft product lines to improve affordability and lead-time for titanium structures," said Brian Rosenberger, Affordability Lead for Improvements & Derivatives at Lockheed Martin Aeronautics.
---
Advancement of Direct Digital Manufacturing technology via DARPA's Open Manufacturing initiative with Penn State University
Sciaky has teamed up with the Applied Research Laboratory at Pennsylvania State University to advance Direct Digital Manufacturing (DDM) technology, via funding from the Defense Advanced Research Projects Agency (DARPA). Under terms of the agreement, a 6,000 square foot Center for Innovative Metal Processing through Direct Digital Deposition (CIMP-3D) will be established within the Applied Research Laboratory at Penn State to serve as a world-class Manufacturing Demonstration Facility under DARPA's Open Manufacturing initiative.
The mission of the Center as a Manufacturing Demonstration Facility is to advance and deploy DDM technology for highly engineered and critical metallic systems to the Department of Defense (DoD) and U.S. industry through three primary thrust areas, which are:
Advancement and integration of enabling technologies required to exploit DDM process attributes during design and optimize DDM processing conditions for producing qualified components and structures
Collaboration with industry in the development and transfer of DDM technologies through process selection, demonstration, and validation as a trusted broker
Promotion of DDM technologies through training, education and dissemination of information
An important aspect of the proposed Center will be the development and use of design and simulation tools that enable industry participants the opportunity to evaluate the impact and effectiveness of DDM technology prior to and during manufacturing demonstrations. The ability to utilize these functions within an integrated system, having a high degree of interoperability, will offer the most advanced array of tools for evaluating potential components and processes in the industry applicable to direct digital manufacturing. This approach draws upon the strength of the U.S. technology base in virtual networking and advanced engineering systems to deploy a disruptive technology that will provide an immediate impact on the suitability, affordability and availability of critical components throughout industry, as well as the exploitation of innovative designs and materials not possible using traditional manufacturing methods.
"We are excited about the opportunity to work with Penn State and DARPA to push the boundaries of Additive / Direct Manufacturing," said Mike Riesen, General Manager of Sciaky, Inc. "I'm confident that this initiative will offer further proof that American innovation is alive and well."
---
* "Game-changer" to aid in F-35 production" – By Dan Davis of The Fabricator; April 13, 2012