Small Chamber EB Welding Systems from Sciaky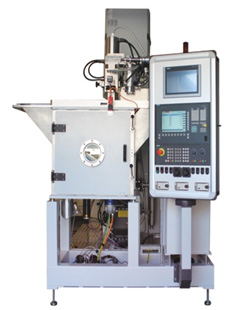 Sciaky, through its partnership with EVOBEAM GmbH of Germany, now sells and supports advanced Rapid Cycle EB welding systems manufactured by EVOBEAM. These systems utilize low voltage and low power, and are ideally suited for rapid production of small-scale parts.
Customization of individual customer requirements is achieved by applying engineering principles focused on custom fit working envelopes, kinematic flexibility, mechanical precision, short pump down times, dry (hydrocarbon free) vacuum, proven EB gun and power supplies, and state-of-the-art CNC controls. Taking customer part production requirements into account, EVOBEAM Rapid Cycle EB welding systems can be configured for manual single part flow or adapted with automated high-volume part handling equipment.
EVOBEAM 60 kV Gun (6-15 kW) - Rapid Single Piece Flow Machine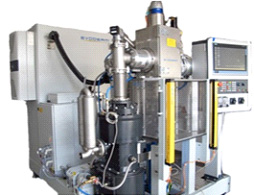 Work envelope: D = 250mm, L =350 mm
Working Vacuum ≤ 8 x 10-3 mbar in 6s
Ultimate Vacuum ≤ 5 x 10-5 mbar
Maintenance-free dry vacuum system (600 l/s)
60kN electro-mechanic pressing of work piece during process (force/displacement controlled)
Electron optical seam tracking system (real time control system 3µs, 18bit)
EVOBEAM 75 Top Loader EB Welding System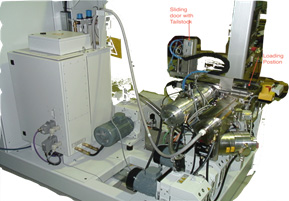 Working Vacuum ≤ 1 x 10-4 mbar
Maintenance-free vacuum system
CNC X-Axis 75mm gun slide
CNC A-Axis rotary
EVOBEAM cube 250 (400) EB Welding System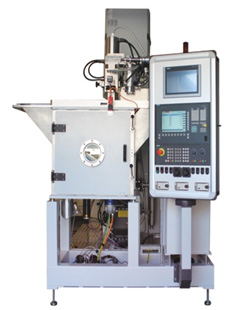 External Gun, X-Axis Gun Slide, Y-Axis Table
Table size: per request
Free height above table: Z = 360mm
CNC Travel
External Gun

250mm or 400mm
Table in chamber: per request

Chamber volume: per request
Chamber type: stainless steel welded
Rotary and Tailstock: CNC, per request
Available features and modules:
6-15 kW beam power (0,2mm spot @ 6kW, 250mm WD)
500 Hz Beam Pulsing
High performance dry vacuum systems (up to 50.000 l/s)
Siemens 840D CNC control, max. 31 axes
Standard: 4 mechanical axes + 4 beam axes (IB, IL, IX, IY)
Real-time control system (18 bit, 3µs) for

Electron optical visualization
Joint tracking
Process control and free programmable deflection

High speed deflection (±7°, 25kHz)
Dynamic lens (1.000 Hz, 10% lift)
Light optics with CCD camera,
LED down beam illumination, cross hair and motorized vapor shield
CNC Rotary tilt positioner