Available EB Welding Systems
Refurbished EBW-112x102x66
Price: Contact for Details
---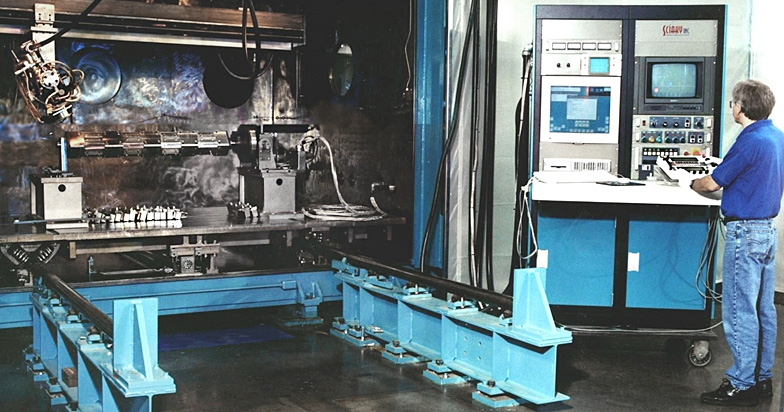 ---
Sciaky has a EBW-112x102x66 available – upgrades and refurbishment required.
The machine is a 30KW W2000 computer-controlled hard vacuum beam welder, with an internally mounted low voltage (60KV) gun and a motorized work carriage. It provides significant advantages in energy efficiency, weld rate, part handling, motion, cycle time, and accuracy. It is also an excellent choice for applications containing refractory alloys and dissimilar materials. The motorized gun and work carriage mechanisms that are included with the base machine consist of high precision servo-controlled mechanical arrangements that manipulate the X, Y, Z axes. The work carriage plate incorporates machined T-slots to mount and clamp work pieces, welding fixtures, or the rotary headstock assembly included with the system.
The W2000 computer control system comes with a portable pendant and has the capability to be programmed to provide simultaneous weld parameters and servo contouring using multiple mechanical axes.
This system can be upgraded to Electron Beam Additive Manufacturing (EBAM) system. Sciaky's EBAM™ systems are the most advanced metal 3D printing systems on the market.
EBW-112x102x66 Specifications:
Chamber Interior Size: 112" (2845 mm) x 102" (2591mm) x 66" (1676mm)
Gun Travels:X-Axis 86" (2184 mm)
Z-Axis 30" (762 mm)
Work Table Travel: Y-Axis 46" (1168 mm)
Work Table Size: 108" (2743 mm) x 32" (813 mm) – T –Slotted
Upgrades Included: Windows WIN 7 Based Man-Machine-Interface (WMMI),
New Real-Time Processor Circuitry
Installation Service: The EB welding system components shall be crated, rigged, and shipped to the customer's facility by Sciaky at the cost of the customer. The customer shall be responsible for providing rigging and unloading at the customer's facility. In addition, Sciaky shall provide the customer with proper lifting and handling instructions. Sciaky can optionally provide installation at the customer's site followed with machine startup and testing services.
Options Available:
Turnkey Install & Test Acceptance at Customer's Site
Extension Chamber
New Rotary Headstock Assembly
New Rotary / Tilt Positioner
System Warranty
Electron Beam Additive Manufacturing (EBAM) Capability