Sciaky's AcuWeld 1000 is the Most Flexible Advanced Arc Welding System on the Market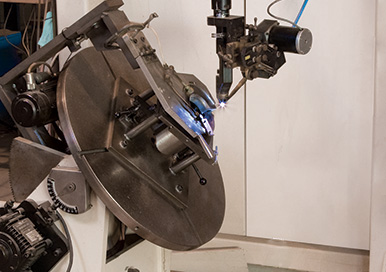 Sciaky's AcuWeld 1000 Advanced Arc Welding System is known throughout the industry for its flexibility, ease-of-use and superb quality--it supports Gas Tungsten Arc Welding (GTAW/TIG) and Plasma Arc Welding (PAW) applications.
The AcuWeld 1000 integrates the welding process with all machine movements, providing complete control through a single W2020 computer system. Menu-driven programming and a portable operator's pendant make the system very user friendly.
Check out the features and benefits of the AcuWeld 1000 Advanced Arc Welder in the chart below:
Features
Benefits
Welding Process
The AcuWeld 1000 supports both the Gas Tungsten Arc Welding Processes and Plasma Arc Welding Processes.
Multi-Axis Programmable
Five (5) standard programmable axes include: X, Y, Z, Part Rotation and Part Tilt. Torch Rotation, Torch Tilt, and Wire Guide Rotation are also available as options.
Weld Positioner Table
Standard 1000-pound (455 kg) load with a 30" (762 mm) faceplate, 6" (152 mm) off and eccentric. 2500-pound (1136 kg) load is also available as an option.
GTAW/PAW Power Supply
175 amperes 100% duty cycle modular Inverter technology with less than 1% ripple and 1 ms pulsation rise time. Optional higher power units available.
Wirefeed System
Computer controlled through servo drive system for precise velocity regulation. Wire feed speed rates programmable from 2 to 100 IPM (50 to 2540 mm/min). System incorporates synchronized pulsation of wire feed rate with weld current pulsation to precisely control heat input.
W2020 Control
A single VME computer system that integrates machine and process control. Quality assurance and diagnostic aids are also included. All essential welding parameters are programmable and monitored.
Portable Pendant
The operator interface includes the Portable Pendant, which provides ease of weld development and machine operation. With the Portable Pendant, the operator can observe welding and machine motion parameters and perform real-time overrides, if required. The Portable Pendant can control up to 9 axes of motion, two wire feeders, axis speed, incremental jogging, as well as other functions.
In order to better serve you, Sciaky proudly offers financing and leasing options to assist you with your machine purchase. Ask your Sciaky sales representative for details.
To discuss your arc welding requirements with a Sciaky welding expert, call us at 1+877-450-2518.