Electron Beam Welders & Custom EB Welding Solutions
Sciaky offers the widest range of EB welding systems in the world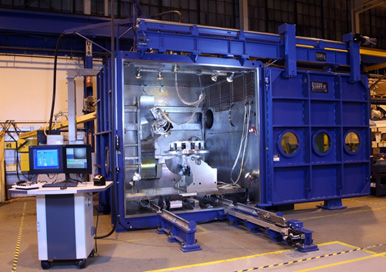 Electron Beam (EB) Welding is an excellent choice for applications containing refractory alloys and dissimilar materials. Advantages of EB Welding technology include a high power density with very low overall heat input and, therefore, minimum distortion. EB welded parts require a minimum of post-weld machining and heat treatment, and, unlike other fusion welding processes, EB requires no shielding gases. The weld quality is exceptional and the process is extremely efficient (typically 95%), carefully controlled and fully automated.
---
EB Welding technology offers the following advantages:
Versatility to weld thin foils to thick sections (greater than 2.5" depth-of penetration)
Multi-axis EB control
High ratio of depth-to-width
Maximum penetration with minimal distortion
Exceptional weld strength
Inert atmosphere (vacuum)
High precision and repeatability with virtually 0% scrap
---
Sciaky has been at the forefront of EB welding system design and manufacturing for many decades. We have proudly built a reputation as EB experts based on hard work and innovation. Sciaky's internal moving EB welding gun is the most versatile EB welding gun in the market. The multi-axis gun motion operates at half the chamber volume of fixed/external gun systems, provides beam access for unusual joint configurations, and significantly simplifies part tooling. For more information on Sciaky's internal moving EB welding gun, click here. Sciaky also offers an external electron beam welding gun. For more information on Sciaky's external EB welding gun, click here.
Here are some examples of parts welded using Sciaky's EB technology:
Superconducting Cavities for High Energy Physics
Aircraft Engine Cases & Assemblies
Military Aircraft Components & Structures
Rock-bit Assemblies & Tank Tubes for Petroleum/Mining Diaphragm Assemblies for Power Generation
Transmission Gears for Automobiles, Trucks, and Off-Highway Vehicles
Based on our partnership with EVOBEAM GmbH of Germany, Sciaky offers the widest range of EB welding systems and services in the industry. To check out Sciaky's Large Chamber EB Welding Systems, click here. To check out Sciaky's Medium Chamber EB Welding Systems, click here. To check out Sciaky's Small Chamber EB Welding Systems via the EVOBEAM partnership, click here.
To discuss your welding requirements with a Sciaky welding expert, call us at 877-450-2518.