Providing Comprehensive Post-Sales Service & Support for Sciaky EB Welding Systems
Protect Your Investment with EBPlus Services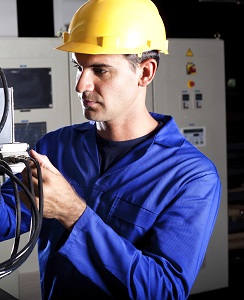 Your Sciaky EB welding system is an integral part of your manufacturing business. Its availability to your production staff is crucial. For that reason, Sciaky recommends regular service evaluations to keep it running at optimal performance.
Sciaky's Technical Services Team is ready to assist you with tailored options for:
Preventive maintenance
Repairs
Modifications, upgrades and retrofits
Software upgrades and maintenance
Emergency repair and surplus part services
---
Benchmark Testing & Preventive Maintenance
Working directly with your technical point-of-contact, a Sciaky Field Service Technician will visit your site and perform benchmark testing procedures, along with a preventive maintenance assessment. This service is recommended every six months and requires approximately three 10-hour days. Sciaky will schedule the assessment at your convenience to minimize production downtime. The service covers the following subsystem equipment:
Pumping System
Computer Controls
Drive Systems
Beam Control System
Beam Deflection System
Electron Beam Gun
Gun Optics
Cable Interfaces
High Voltage System
X-Ray Survey
Any defective parts revealed during the preventive maintenance assessment will be identified (by Sciaky part number) and recommended for replacement. If required, Sciaky will advise a course of action for on-site repair to restore your welder back to original system requirements.
Calibration Evaluation
The accuracy of welding components naturally drifts overtime. Therefore, it is necessary to calibrate welder parameters at regular intervals. Calibration quantifies and improves welder performance, reduces inconsistency, and maintains peak production. To help you meet your calibration needs, a calibration should be performed on your Sciaky EB Welding System once a year. The Calibration Evaluation Service includes:
Accelerating Voltages
Beam Currents
Beam Focus
Scanner Accuracy
All Axes Velocities
Beam Deflection
Filament Operation
Calibration evaluation requires approximately five 10-hour days. Sciaky will schedule the evaluation at your convenience to minimize production downtime. Subsystem recalibration may require requalification of existing weld schedules as specified by the end user.
Keep Your EB Welding System Modern & Efficient with System Upgrades & Accessories
Sciaky provides accessories, retrofit packages, as well as technology and component upgrades, to seamlessly modernize your EB system and improve performance. Examples of system upgrades include:
Power supply
PC system software
Optics
Motion systems hardware
Vacuum system
Electron beam welding gun
Electron beam additive manufacturing (EBAM) upgrades—wire-feed system, closed-loop control and PC system software
Call our Technical Services Department today for pricing and details at 1+877-450-2518. Emergency visits are available.