Make Metal Parts Faster & Cheaper with EBAM® Metal 3D Printing Technology
3D Printing has had an undeniable impact on the manufacturing world. Parts made faster, with less material waste, reduced machining time, and shorter time-to-market are just some of the benefits attainable with 3D printing (a.k.a. Additive Manufacturing or Direct Digital Manufacturing).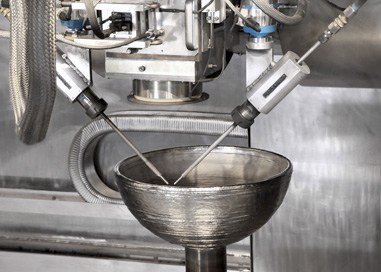 Sciaky's Electron Beam Additive Manufacturing (EBAM) is a one-of-a-kind metal 3D printing technology that delivers on the key benefits mentioned above and excels at producing large-scale, high-value metal parts. It's no secret that large-scale forgings and castings can take many, many months to complete. EBAM, on the other hand, can produce high quality, large-scale metal structures, up to 19' in length, made of titanium, tantalum, and nickel-based alloys in a matter of days, with very little material waste.
In addition, the EBAM process can be used in any phase of the product life cycle: from rapid prototypes and production parts to repair and remanufacturing applications.
How does EBAM® work?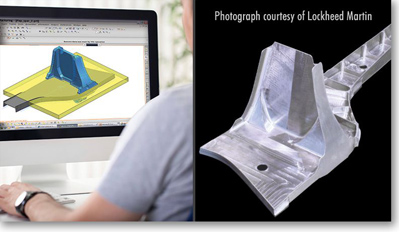 Here's the short version: Starting with a 3D model from a CAD program, Sciaky's electron beam (EB) gun deposits metal (via wire feedstock), layer by layer, until the part reaches near-net shape and is ready for finish machining. Sciaky's IRISS® (Interlayer Real-time Imaging & Sensing System) is a patented Closed-Loop Control that provides consistent part geometry, mechanical properties, microstructure, metal chemistry and more from the first part to the last. Gross deposition rates range from 7 to 40 lbs. (3.18 to 18.14 kg) of metal per hour, depending upon the selected material and part features. When it comes to producing large, high quality metal parts, no other metal additive manufacturing process in the world works faster – or is more cost-effective – than EBAM thanks to this high deposition rate (HDR).
Plus, with an EBAM dual wirefeed system, you can combine two different metal alloys into a single melt pool, managed with independent program control, to create "custom alloy" parts or ingots. You also have the option to change the mixture ratio of the two materials, depending upon the features of the part that you are building, to create "graded" parts or structures. Furthermore, you can alternate between different wire gauges for finer deposition features (thin wire) and gross deposition features (thick wire). These unique benefits are exclusive to the EBAM dual wirefeed process and are not available with any other metal additive manufacturing process in the market.

Watch this video to see EBAM Technology in action
How Large of a Part can you Build with EBAM®?
Wondering what the most effective size range for EBAM parts is? Parts and structures up to 19 ft. x 4 ft. x 4 ft. (5.79 m x 1.22 m x 1.22 m) – or round parts up to 8 ft. (2.44 m) in diameter – can be produced with Sciaky's EBAM machines. While large-part metal additive manufacturing is our specialty, EBAM can also be effective for smaller-scale parts and applications, too. In general, parts starting around 8 in. ³ (203³ mm) and larger are the best candidates for the EBAM process.
---
Materials
The best material candidates for EBAM applications are weldable metals that are available in wire feedstock. These materials include:
Inconel 718, 625
Tantalum
Tungsten
Niobium
Stainless Steels (300 series)
2319, 4043 Aluminum
4340 Steel
Zircalloy
70-30 Copper Nickel
70-30 Nickel Copper
---

Benefits of Choosing Electron Beam Additive Manufacturing
Reduces material costs, lead times, and machining times (as much as 80%) vs. conventional manufacturing
The fastest, most cost-effective Additive Manufacturing process in the market for producing large metal parts
IRISS® Closed-Loop Control Technology ensures process repeatability and traceability (real-time adaptive control)
The widest range of material options for large-scale metal applications
The Big Metal Experts: Sciaky offers the largest build envelope in the world for 3D printed metal parts
The widest range of commercially-available metal Additive Manufacturing systems (in terms of work envelope scalability)
EBAM's exclusive dual wirefeed process allows you to feed two different metal alloys into a single melt pool to create parts made of custom alloys; It also allows designers to vary alloy mixtures to produce graded parts; Graded parts can also be produced by switching from thin wire (fine deposition) to thick wire (gross deposition) feedstock
EBAM works exceptionally well with refractory alloys and produces significantly less material waste (a big cost-savings advantage!) – Plus, wire feedstock is significantly less expensive than powder feedstock, it is easier to store, and it isn't highly flammable like some powder feedstocks
With EBAM's pure vacuum environment, the process doesn't require the use of Argon or any inert gas for part shielding
Start 3D printing parts in as little as 12 minutes; While EBAM pump down times can vary by chamber size and application, it is still, by far, the fastest metal AM process in the market when you consider EBAM's industry-leading high deposition rate (HDR)
Best of all, Sciaky's EBAM systems are available for purchase, or for contract service engagements. Click on one of the buttons below to learn more about these two options:
Click Here to Download Sciaky's Metal Additive Manufacturing Brochure