Sciaky Offers Unrivaled Contract Welding Services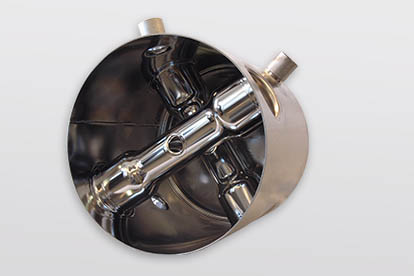 Sciaky's contract welding job shop offers a wide range of affordable industrial EB and arc welding services for customers in a wide variety of industries all over the world.
EB Job Shop Welding Services
We have the capability to weld large assemblies up to 24 feet in length and 92 inches in diameter, as well as tiny parts that fit in the palm of your hand. Whether your requirements call for the development of a prototype part or fabrication services for large volume production, Sciaky has the right solution to meet your needs. Best of all, Sciaky's custom EB welding services are competitively priced and offer tremendous advantages over smaller job shops in terms of equipment and expertise. You won't find a more complete EB welding job shop anywhere in the world.
Sciaky's process development laboratory is staffed with highly qualified personnel and the latest equipment to evaluate your specialized welding applications and feasibility programs. Our skilled technicians offer the latest welding processes, system design, weld joint design, metallurgical expertise, and programming skills. The process laboratory occupies about 4,000 square feet within the service facility. Additional testing, such as radiographic inspection and ultrasonic inspection is available as well.
---
Electron Beam Welding Consultation
Have a Sciaky EB welding expert show you how to get the most out of your Sciaky EB welding system
Welding Specification Certifications
Standards such as AMS2680, AMS2681B, AWSD17.1, AWSC7-3, Mil-W-46132, ASME Boiler & Pressure Vessel Code
Quality Procedures and Manuals, detailed operation sheets, Approved EB weld schedules with configuration controls
Nadcap accreditation for EB welding and Quality Systems AS7003 and AC7004
Customer-Specific Certifications
Custom Part Fixturing and High Throughput Fixturing
Work Handling Capacity up to 20 tons
Cleaning and Painting Facilities
Heat Treatment | Stress Relief
Metallurgical Analysis
NDI—Leak checking, Die Penetrant inspection, Laboratory Testing and Demonstration Capabilities
Pre- or Post-Weld Machining
Assembly and Finish Machining
---
Click Here to Download Sciaky's Contract EB Welding Services Info Sheet
Arc Job Shop Welding Services
Sciaky has two 5-axis AcuWeld 1000 Systems that support Gas Tungsten Arc Welding (GTAW) and Plasma Arc Welding (PAW) processes in its Chicago facility.
These flexible and time-tested advanced arc welding systems provide superb quality for all of your contract service needs. In fact, they have been a vital resource for a high-production assignment for a leading manufacturer since 2007.