Sciaky's EBAM® technology is the only large-scale metal additive manufacturing process with approved parts in 4 dimensions: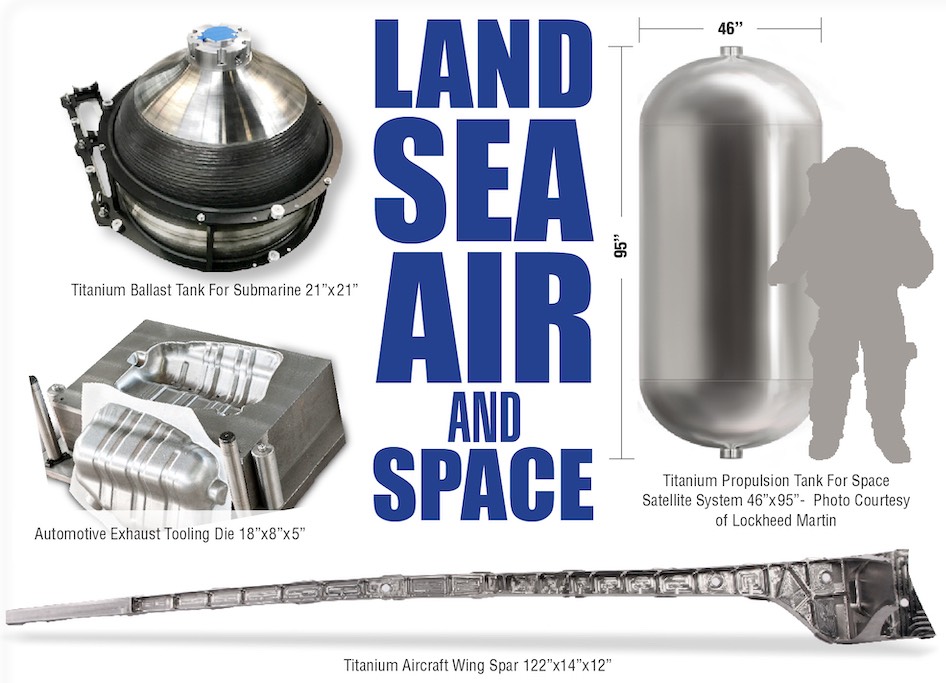 Since 1939, Sciaky has provided innovative solutions for the manufacture of warplanes, warships, tanks, space shuttles, rockets, satellites, submarines and automobiles. No other industrial metal 3D printing provider has more approved applications on Land, Sea, Air, and Space than Sciaky's Electron Beam Additive Manufacturing (EBAM®) technology.
That's why the most advanced manufacturing companies in the world, including our nation's defense and energy programs, come to Sciaky, time after time. It's all about TRUST.
Contact us today and let our AM experts assist you with your next project.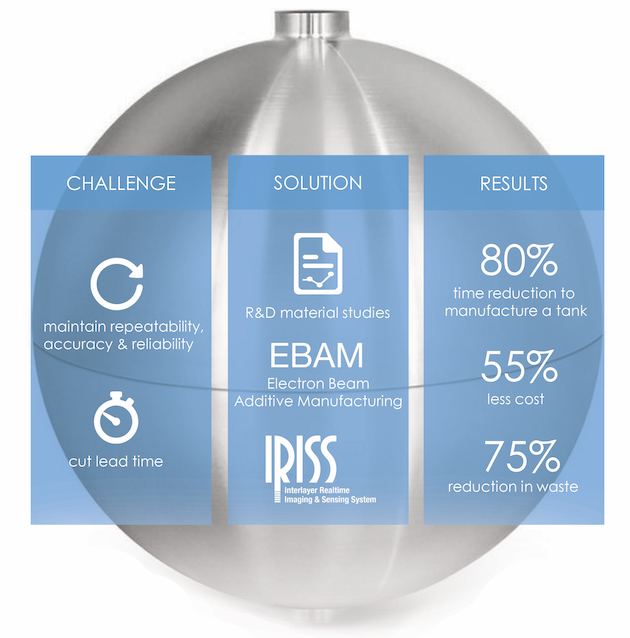 "If you're going to build a titanium tank for a satellite that we currently build, you have to buy a billet of forged titanium, and the latent time is 14 to 18 months to get it from the supplier, and then you have to machine it down to its final geometry. This machine, the Sciaky, lays it up bead by bead, and then you machine it to the final thickness, and you have two spheres and probably a barrel section for the final tank geometry. So you get a tank for a small satellite, machined in three pieces, and within a week's time." - Dennis Little, VP of Production at Lockheed Martin Space Systems
Read more at Aviation Week

Discover how EBAM is revolutionizing technology on land and in sea, air and space. Learn more.
Sciaky Privacy Policy
About
Thank you for your interest in Sciaky, Inc.
Please review this Privacy Policy carefully. You are required to agree to the terms outlined in this document to be permitted to use Sciaky.com and the services associated with it.
If you have any questions, concerns, or feedback about this document, you can reach us via e-mail at This email address is being protected from spambots. You need JavaScript enabled to view it. or call us at 1+877-450-2518. Beyond this, please let us know if you no longer wish to receive any form of communication from us and we will promptly remove you from our marketing lists.
Our mailing address is:
Sciaky, Inc.
4915 W 67th St.
Chicago, IL 60638
Reference Guide
"Sciaky" refers to our company, known as "Sciaky, Inc."; our Site; our Service; or a combination of all or some of the preceding definitions, depending on the context in which the word is used; "Service" refers to the services that we provide through our Site, including our Site itself; "Site" refers to our website, www.sciaky.com; "User" refers to anyone who uses our Service, including general visitors to our Site; "You" refers to you, the person who is governed by this Privacy Policy.
Disclaimer
The content provided on this website—in particular, performance-related accounts of Sciaky machines--is intended to be general in nature. It does not apply to all potential technological applications with 100% accuracy.
Tracking Tools We Use
Like most sites, Sciaky collects anonymous user statistics with Google Analytics and Google Webmaster Tools. We use this data to evaluate visitors' engagement with site content and to compile statistical reports on website activity.
To opt out of Google Analytics tracking, you can install the Google Analytics Opt-out Broswer Add-On for your browser.
Information We Collect
We collect personal information from you when you elect to sign up for Sciaky services, which may entail joining our newsletter, responding to a survey or filling out a contact form.
When you voluntarily make an inquiry, request a quote, place an order, or otherwise register your identity on our site, you may be asked to provide your: first and last name, email address, company name, mailing address, and/or phone number.
In addition, when you visit Sciaky's site, Google Analytics also automatically collects other anonymous traffic data that includes data such as your IP address, referring URL, browser, operating system, cookie information, and Internet Service Provider. Except in extraordinary cases, this information alone cannot be used to identify you.
What We Use Your Information For:
We collect information from web site visitors for the purpose of a) responding to product/service inquiries and requests and/or b) improving our site's content and performance.
The information we collect from you may be used in one of the following ways:
To improve our website
(in addition to website maintenance and operations, we continually strive to enhance our site offerings based on the information and feedback we receive from you)
To personalize your experience
(your information helps us to better respond to your individual needs)
To improve customer service
(your information helps us to more effectively respond to your customer service requests and support needs)
To send periodic emails*
*The email address you provide to make an inquiry, request a quote, or place an order may be used to send you information and updates pertaining to your order or request, in addition to receiving occasional company news, updates, promotions, related product or service information, etc.
Note: If at any time you would like to unsubscribe from receiving future emails, we include detailed unsubscribe instructions at the bottom of each email.
Do we disclose any information to outside parties?
We do not sell, trade, or otherwise transfer to outside parties your personally identifiable information. This does not include trusted third parties who assist us in operating our website, conducting our business, or servicing you, so long as those parties agree to keep this information confidential. We may also release your information when we believe release is appropriate to comply with the law, enforce our site policies, or protect ours or others' rights, property, or safety.
Your Consent
By using our site, you consent to our privacy policy. This online privacy policy applies only to information collected through our website and not to information collected offline.
Other websites
The Sciaky site contains hyperlinks to other websites. We are not responsible for the privacy practices or the content of such websites.
Amendments to this Policy
If we decide to change our privacy policy, we will post those changes on this page, and/or update the Privacy Policy modification date below. Policy changes will apply only to information collected after the date of the change.
This policy was last modified on October 2, 2015