Fast Times at Sciaky Incorporated
"2016 is primed to be the year that 3D printing finally fulfills its potential to become most disruptive B2B technology on the market."
We were confident in this claim but – as previous 3D printing bubbles have demonstrated – not completely devoid of skepticism.
With the last 12 months as evidence, however, our prognostication has proven resoundingly accurate.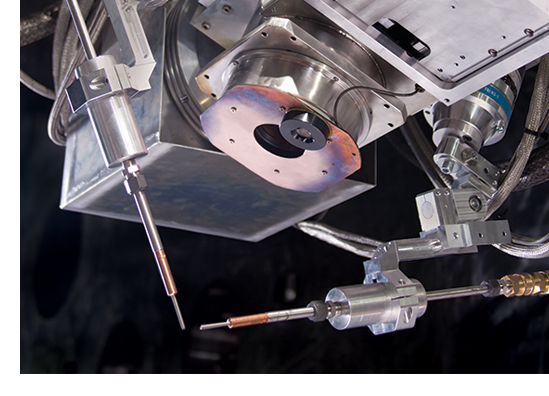 2016 was nothing short of momentous for Sciaky. This probably isn't breaking news to anyone following the additive manufacturing industry – and especially to those keeping tabs on our Media Coverage page (a hub for news articles featuring Sciaky).
To start the year, our Closed Loop Control technology for our Electron Beam Additive Manufacturing (EBAM®) systems evolved with the release of IRISS®, the Interlayer Real-time Imaging & Sensing System. IRISS became the only real-time monitoring and control system in the market that can sense and digitally self-adjust metal deposition with precision and repeatability.
The impact of this development on end-product quality did not go unnoticed to companies like Lockheed Martin, International Submarine Engineering, and many others who have undertaken rigorous part testing and qualification to verify the mechanical properties, metal chemistry, microstructure construction and other aspects of EBAM-printed parts.
As a result, our user base has grown exponentially. We sold EBAM 110 systems to Airbus, EWI, and a major Asian supplier of custom metal solutions.
And soon, approved parts printed on EBAM® Systems will be successfully deployed in land, sea, air and space – making Sciaky the first additive manufacturing company to reach this milestone.
To put the last year or so in context, we've collected six excerpts from 3D printing and additive manufacturing publications to underscore our rapid advances in this space.
We're extremely proud of everyone on the Sciaky team from top to bottom for their energy and innovation. These achievements are tribute to their intellect and hard work.
Excerpts:
---
Lockheed Martin Credits Sciaky's EBAM Metal 3D Printing for Cost-Saving Titanium Propulsion Tank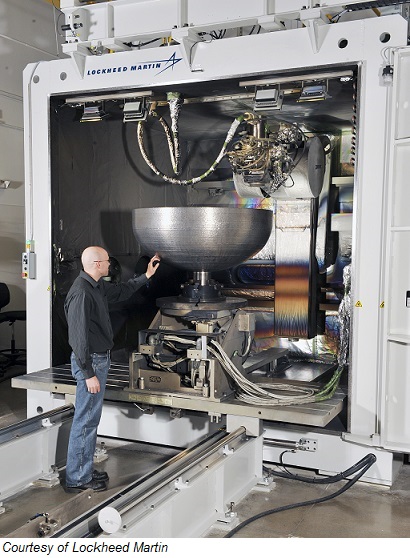 "…[W]hen our Space Systems business area was looking for ways to reduce costs on our satellite parts, while also maintaining product quality, a company called Sciaky came to us with a solution. We worked together to develop titanium propellant tanks that can be 3D printed through the use of their electron beam additive manufacturing process.

The result was a tank that met our customer's performance standards, with an 80 percent reduction in the amount of time needed to manufacture it, a 75 percent reduction in waste and a 55 percent reduction in cost. We're confident that innovations like these will continue to drive greater quality and reduce costs for our customers, which benefit our entire supply chain."
Read on: Aviation Week
---
Freedom in Electron Beam Additive Manufacturing
"This capacity for building large parts plus its speed gives EBAM clear potential as an alternative to forging. Like forging, it is a near-net-shape process capable of building large forms. But unlike forging, it requires no die or other tooling, making it faster and more flexible. EBAM can provide design freedoms in geometry that forging cannot."
Read on: Modern Machine Shop
---
Sciaky Announces Closed-Loop Control for Giant Metal 3D Printers
"EBAM may not have the same advantages when it comes to complex geometries that powderbed systems offer, but this is made up for in terms of size, speed, and flexibility, making it an important technology for industries like aerospace, where large-scale, 3D printed parts may play a role in the future of aircraft production."
Read on: 3D Printing Industry
---
Space Component Manufacturers Turn to 3D Printing
"Lockheed Martin Space Systems Co. hopes to cut the time to manufacture a satellite from as long as 48 months to 18, according to Dennis Little, vice president for production.

"If you're going to build a titanium tank for a satellite that we currently build, you have to buy a billet of forged titanium, and the latent time is 14 to 18 months to get it from the supplier, and then you have to machine it down to its final geometry," Little says. "This machine, the Sciaky, lays it up bead by bead, and then you machine it to the final thickness, and you have two spheres and probably a barrel section for the final tank geometry. So you get a tank for a small satellite, machined in three pieces, and within a week's time."
Read on: Aviation Week
---
Sciaky 3D prints titanium tank for ISE Arctic Explorer AUV using EBAM Tech
"We've seen 3D printing used for space exploration, and now the technology could help with another type of exploration altogether, in a Twenty Thousand Leagues Under the Sea kind of way. International Submarine Engineering, Ltd. (ISE) has enlisted the help of metal 3D printing company Sciaky, Inc. and its innovative Electron Beam Additive Manufacturing (EBAM) technology to manufacture a titanium Variable Ballast (VB) for ISE's Arctic Explorer Autonomous Underwater Vehicle (AUV).

ISE approached Sciaky, Inc. after its original VB supplier, a forging facility that manufactured propellant tanks for Russia's space program, closed down. After learning that Sciaky had already worked with Lockheed Martin Space Systems to 3D print titanium propellant tanks (while notably cutting back on production time and cost), ISE realized the EBAM manufacturing method could be the perfect fit for its own manufacturing needs.

In the end, Sciaky's metal 3D printing technology helped reduce production times by half (from 16 weeks to only 8) and significantly reduced the cost of production, especially compared to traditional manufacturing methods. In terms of quality, the VB tank met all of the qualification tests and performed reliably. According to a press release, ISE expects it will be 3D printing more critical titanium parts in the future."
Read on: 3Ders.org
---
Sciaky Brings Tighter Precision to Metal AM
"Because of its underlying technology, EBAM users can leverage a closed-loop control system and realize greater control than their laser-sintering counterparts. What's most interesting is that it's not just Sciaky singing the praises of its technology, aerospace giant Lockheed Martin is also excited about EBAM technology, especially with the new IRISS upgrade.

"We know more about the creation of each additive part than we can reasonably know about parts created other ways," said Slade Gardner of Lockheed Martin, an early adopter of the EBAM system. "In the future, the data could be marshaled to streamline the process to a degree that goes well beyond just replacing one metalworking operation with another."
Read on: Engineering.com
---