Blog: The Metal Additive Manufacturing Tipping Point Has Arrived Wire DED is Our Preferred Technology vs. Powder Bed Fusion
Remember when Y2K was a thing?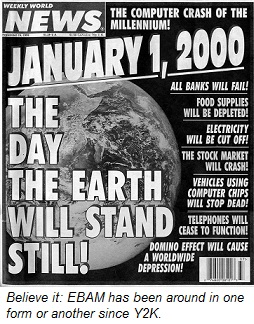 It's been 16 years since we began developing our metal 3D printing process (back then it was called EBFFF; now it's EBAM®) in Y2K.
In tech industry years, that makes us about 80*.
Good for us then, that 2016 is primed to be the year that 3D printing finally fulfills its potential to become most disruptive B2B technology on the market (note: hate to use the B2B caveat at all, but we can't pick a fight with hoverboards).
While it remains to be seen if and how desktop 3D printing sales will ever truly take off, industrial 3D printing ("additive manufacturing" is the more appropriate term to use in this application) – and, in particular, metal additive manufacturing – is quietly enjoying huge growth as more and more companies integrate metal additive manufacturing systems into their manufacturing processes.
After witnessing this industry grow exponentially over the past few years, we believe metal additive manufacturing has reached the proverbial tipping point. The potential economic and time savings of producing a fully-functional titanium production part, for example, with EBAM® vs. traditional manufacturing, is just too big to ignore. For aerospace companies, for example, a 50+% improvement in the buy-to-fly ratio for large metal airframe structures is especially powerful.
But what are the primary choices available to businesses when it comes to vetting metal additive manufacturing processes and machines?
You can view a full diagram of all metal AM methods and manufacturers here, but these options are easily divided into two primary groups: Powder Bed Fusion technology and Directed Energy Deposition (DED) technology. Although DED does come in two variations (Wire DED and Powder DED), Wire DED is the more distinct process worth focusing on here. And although new methods are constantly emerging, EBAM is easily the most mature and widely-adopted Wire DED method available.
As for Powder Bed Fusion, the process most commonly used is known as Selective Laser Sintering (SLS) or, synonymously, Selective Laser Melting (SLM). Electron Beam Melting (EBM), on the other hand, is another Powder Bed Fusion process that uses an Electron Beam in a vacuum chamber as a power source as opposed to a laser (otherwise SLS/SLM and EBM are basically the same, and EBM shares nothing else in common with EBAM).
This Venn Diagram illustrates the primary differences between Wire-fed AM and Powder Bed AM: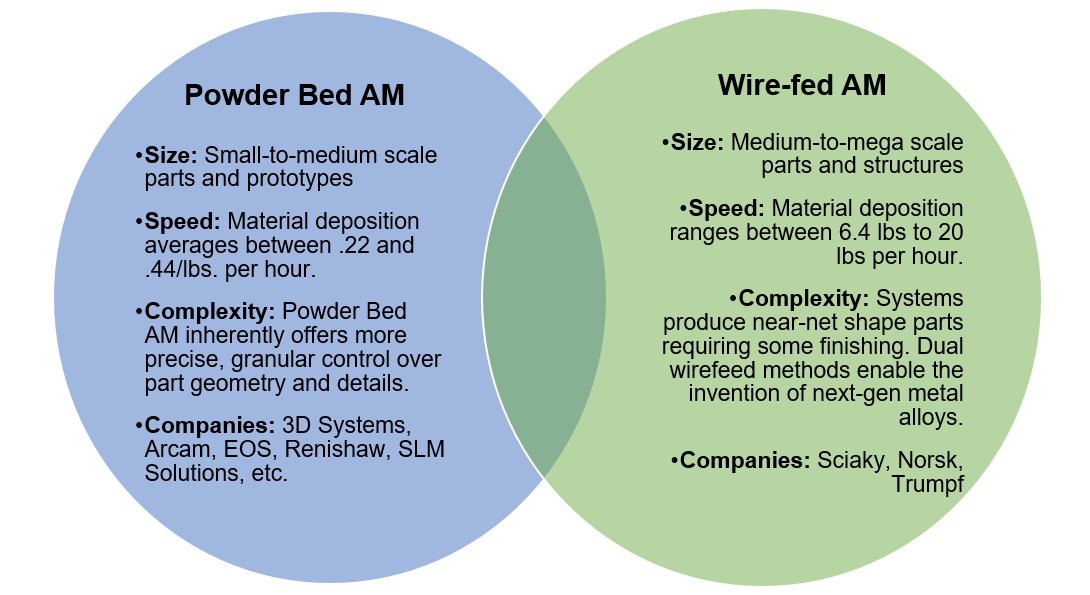 As you can see, Wire-fed AM offers significantly greater scalability with part size and a much faster material deposition rate (between 7 and 20 lbs. an hour in the case of EBAM) than Powder Bed Fusion. Conversely, Powder's singular selling point centers on the complexity of the shapes and nuance of details they can form out of powder (as opposed to beads of wire in the case of Wire DED).
While EBAM-produced parts do require minor finishing, its one-of-a-kind dual wirefeed process allows users to combine two different metal alloys into a single melt pool to create "custom alloy" parts or "graded" material parts, as well as switch between fine (thin wire) deposition features and gross (thick wire) deposition features.
More importantly, in addition to these dual wirefeed capabilities, Sciaky's closed-loop control system – called IRISS™ (short for Interlayer Real-Time Imaging and Sensing System) – provides EBAM operators with highly consistent part geometry, microstructure, mechanical properties, and metal chemistry. This narrows the gap between it and Powder Bed Fusion in terms of potential part complexity by a considerable margin.
To this end, Lockheed Martin's Slade Gardner, an early adopter of an EBAM system, said this about IRISS and the part quality and repeatability that it produces: "We know more about the creation of each additive part than we can reasonably know about parts created other ways."
For all these reasons and more, we fully believe that the business case for EBAM is stronger than the typical Powder Bed Fusion process. EBAM is a full-scale means of production used to create, improve, and repair next-generation end-use technology in the aerospace and defense industry, automotive industry, energy industry, metals industry, and many other verticals.
Author Michael Molitch-Hou with 3Dprintingindustry.com may have said it best in this article:
"EBAM may not have the same advantages when it comes to complex geometries that powderbed systems offer, but this is made up for in terms of size, speed, and flexibility, making it an important technology for industries like aerospace, where large-scale, 3D printed parts may play a role in the future of aircraft production."
---
TL;DR: Metal Additive Manufacturing is on the verge of widespread adoption for full-scale production purposes. This market will be worth $776.8 Million by 2020. For OEMs comparing Metal AM solutions, they boil down to two primary branches: Directed Energy Deposition (this article focused on Wire DED) and Powder Bed Fusion technology. Wire DED can print much larger parts and operates much faster than Powder Bed Fusion technology; however, the latter typically offers a higher degree of control over part geometry and detail.
*Update: Our Lead EBAM Engineer just informed me that research on EBAM technology actually dates back to 1996. So we're even older than I thought!